Taormina, the chic bathing resort, gained global notoriety not least for the G7 Summit that took place there in May 2017. The location comprises a town centre and a seaside resort (Mazzaro). It is likely that every visitor to Sicily has either been there at one time, or has the photo of the ancient theatre with Mount Etna in the background on their to-do list. But Taormina is much more than a pretty stage. There's an old town with numerous culinary options, palazzi, churches and hotels with a great deal of history, and unparalleled photographic backdrops. In the bathing resort of Mazzaro, which can be accessed from the town centre by car or via a cable car, there is also the island of Isola Bella. Visitors can lie directly down on the pebble beach, or book into a lido.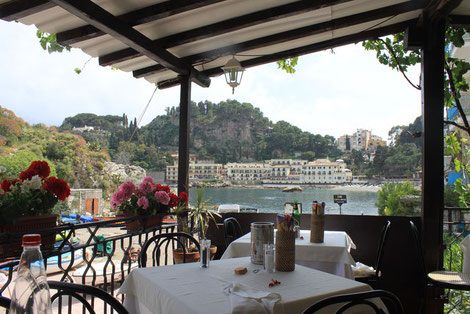 Restaurant tip: Trattoria Il Barcaiolo
Below Taomina, in Mazzaro, somewhat hidden but with a lovely view across the bay lies this little family-owned restaurant. Especially the fish and vegetable dishes are recommendable.
Our wine recommendation for fish dishes is "Altrove" produced by Vivera Winery, that you can find on their card and in this shop.